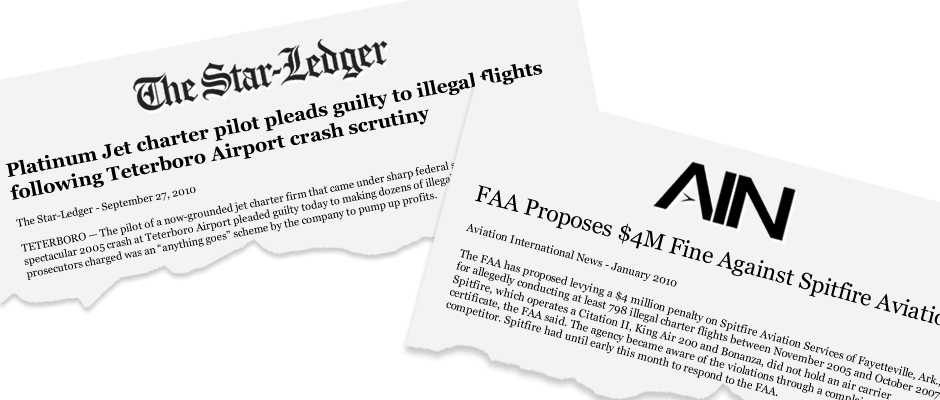 DO NOT BECOME A HEADLINE!
This could happen to you if you are not a Part 135 Certified Air carrier and you:
Own and operate your aircraft by a single purpose LLC or Corporation

Loan your aircraft to a friend and accept compensation for the flights

Fail to follow business formalities
We make it easy to fly legal.
 It is not a difficult or complex process. Here are the general guidelines to flying legal.
Place ownership of your aircraft in a company that has a business purpose other than providing air travel.

If the liability is unacceptable or cannot be mitigated sufficiently by insurance, then dry lease the aircraft to another entity. The new entity operates and has operational control of the flights. This structure can be accomplished through an aircraft dry lease agreement and aircraft services agreement.

Place your aircraft with a management company, Part 91 or Part 135. This option can also help you offset your ownership costs with revenue derived from Part 135 Charter flights. We will also help you negotiate preferred rates for your friends.

Take advantage of Part 91.501. Joint ownership agreement, time sharing agreements, and inter change agreements may be put into place to allow for multiple parties to fly legally without a Part 135 Air Carrier Certificate.
To have us assess your aircraft ownership structure or to ensure you do not become the next headline contact Carriere, Little & Leach at info@carrierelittle.com or 720.979.0922 today.

Carriere, Little & Leach LLP is an aviation business law firm. We specialize in meeting the business and legal needs of those who own, operate, manage, buy, and sell aircraft. Our services include eliminating or reducing sales tax at time of purchase, reducing risk and complexity by creating ownership and operating business structures, and adding value by providing thoughtful expert advice. Whether you leverage aviation in your business or aviation is your business, we are here to serve you.
FAA Illegal Charter Hotline
The FAA launched the Illegal Charter Hotline in 2009. The hotline receives dozens of calls each year. To report a suspected illegal commercial flight in which an aircraft operator without an FAA Part 135 certificate is accepting compensation for transportation call 1-888-SKY-FLT1 (888-759-3581).