Tail Number Blocking
There are a growing number of often surprising illegitimate uses for the information routinely broadcast about the movements of private aircraft in the U.S.  This information, called Aircraft Situation Displayed to Industry (ASDI) data, is searchable by tail number and is made readily available to just about anyone with an internet connection.
ASDI data includes: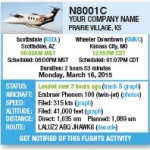 * Location
* Altitude
* Airspeed
* Destination
* Time of Arrival
Given the ubiquity of the internet, it has never been more prudent to safeguard this valuable information from illicit uses while ensuring legitimate users can still have access to it when necessary.
Known Illegitimate Uses of ASDI data include:
Paparazzi catching celebrities as they disembark from private flights
Businesses hoping to gain an unfair advantage by gleaning their competitor's suppliers, customers, or other confidential business information
State tax regulators targeting aircraft owners and operators for unfair taxation
Security and aviation industry experts have also suggested that ASDI data could potentially be used by terrorist groups as a means for planning terrorist attacks, kidnappings, etc.
Whether your primary concern is privacy, security, or both, we make it easy for you to block your private ASDI data and prevent it from reaching unscrupulous hands, while tailoring your level of protection to best fit your needs. Tail number blocking can be an effective way to limit the amount of private data available to the general public.
Please give us a call at 720-979-0922 to get started.  To download PDF brochure click this link:  Tail Number Blocking