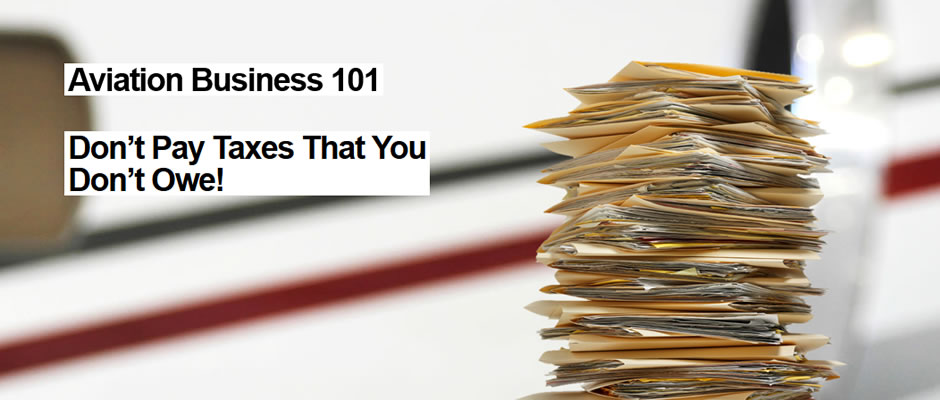 Don't pay taxes (FET and state sales tax) that you don't owe!
Where will you take delivery of your new aircraft?  How will you operate – Part 91 or Part 135?
How you answer these questions could cost you hundreds of thousands of dollars in taxes.  Carriere, Little & Leach can help mitigate your tax burden of owning and operating your aircraft from purchase to sale.
Aircraft Sales Tax Case Study
Owner is purchasing a Gulfstream G450; Purchase price: $24,000,000.
| Without Tax Planning | With Tax Planning |
| --- | --- |
| Delivery Location: Pennsylvania | Delivery Location: New Jersey |
| Local Sales Tax Rate: 6% | Local Sales Tax Rate: N/A due to Fly Away Exemption |
| Sales Tax Paid: $1,440,000 | Sales Tax Paid: $0 |
Aircraft Operations Tax Case Study
Operating Aircraft G450; Hourly Charter rate: $6000/hr; Hours flown in Year: 100; Operational Home State: Colorado.
| Operating Part 135 | Operating Part 91 |
| --- | --- |
| FET tax rate: 7.5% | FET tax rate: N/A |
| State Sales Tax on Charter: N/A | State Sales tax on Dry Lease: $0 (If less than 3 year term) |
| Yearly FET Tax Paid: $45,000 | FET Tax Paid: $0 |
Depending on which state serves as the home base of the aircraft, an owner could completely eliminate sales and use tax liability for qualifying business aircraft or defer that tax liability. Understanding your state's available tax exemptions and planning to meet the exemptions prior to purchasing an aircraft is paramount. Whether you want to operate your aircraft under Part 91 or Part 135, we can provide you with a plan to keep your liability at an acceptable level. Carriere, Little & Leach can help design a tax plan that works with you and eliminates the possibility of paying taxes you do not owe.
To have us examine your aircraft tax ownership and operational impact contact Carriere, Little & Leach at info@carrierelittle.com or 720.979.0922 today.
Carriere, Little & Leach LLP is an aviation business law firm. We specialize in meeting the business and legal needs of those who own, operate, manage, buy, and sell aircraft. Our services include eliminating or reducing sales tax at time of purchase, reducing risk and complexity by creating ownership and operating business structures, and adding value by providing thoughtful expert advice. Whether you leverage aviation in your business or aviation is your business, we are here to serve you.