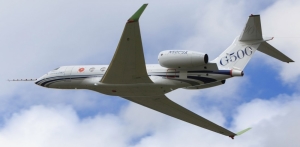 Gulfstream Aerospace's flight-test campaign for its G500 program has surpassed more than 100 hours over more than 45 missions. The milestone comes exactly one year since the large-cabin twinjet, as well as its larger and longer-range G600 sibling, were launched at the company's headquarters in Savannah, Ga.
In the five months since its maiden flight, the first flight-test G500 (T1) has reached an altitude of 38,500 feet and a maximum airspeed of Mach 0.80. Its longest flight to date is five hours and 22 minutes, Gulfstream said.
Gulfstream has completed initial testing of the aircraft's handling qualities, as well as testing of the high-speed and attitude recovery stall system. T1 is currently involved in flutter and envelope expansion testing. Meanwhile, the company is preparing T2 and T3 for flight, with the start of ground and loads testing on T2 and avionics testing on T3. A fourth flight-test G500, T4, will come online next year and focus on human factors and supporting systems. This airplane will also be used for functionality and reliability testing.
The aircraft manufacturer expects to receive FAA certification of the G500 in 2017, with entry into service in 2018; the G600 is planned to follow by one year.
by AINalerts