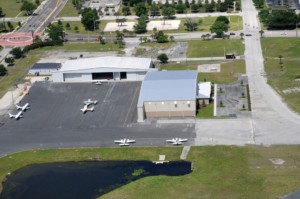 The FAA this week issued its final policy on the non-aeronautical use of hangars at grant-assured airports, and fears of a sterile, draconian policy eliminating anything but aircraft storage have proved unfounded, as the agency has adopted a common-sense approach. The public comment period on the policy elicited more than 2,400 responses.
Aimed at ensuring the availability of hangars for aviation needs, the new policy, which will take effect July 1, acknowledged that the rental of such structures for non-aviation activities allows airport sponsors to be economically independent when aviation demand is low. Provided there is no immediate aviation use for the structure, sponsors must apply to the FAA to approve an interim non-aviation use of a hangar for a specified period. Non-aviation tenants may be issued month-to-month leases until and unless there is aviation need.
Regarding storage of non-aviation items in hangars, the agency will defer to the local sponsor as to what specifically will and will not be allowed. However, the agency will not consider a violation if the items do not impede the movement of aircraft in and out of the hangar or access to other aeronautical contents of the hangar. The agency also changed its position on hangar use during the construction process for amateur-built aircraft, stating this is an allowable use, but suggested that airport sponsors institute some sort of progress benchmarks to eliminate stalled projects.
by AINalerts